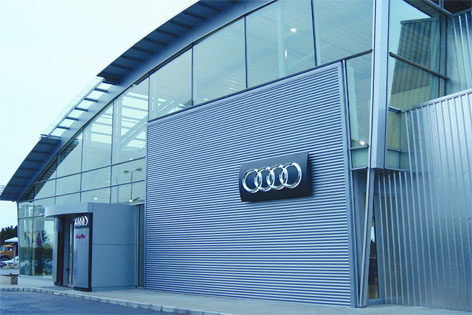 AUDI showroom
The project involved turnkey design, supply
and construction.
The design was prepared inhouse in compliance with Audi corporation international guidelines.
The showroom is 32 m x 33 m x 4.2 m height at the front and 9.80 m height at the rear. Its total built up area is 1,035 m2 820 m2 for the showroom and the handing over of cars, and 215 m2 for the offices located at mezzanine level.
The foundation of the showroom and the walls and slabs of the handing over of cars area were made in reinforced concrete. The showroom itself was made of steel structure.
The showroom storage area was built with:
(1) steel frames made of columns and space trusses
(2) a roof made of aluminum corrugated sheets thermally and acoustically insulated
(3) curtain wall facades made of aluminum profiles and 12 mm x 12 mm x 12 mm laminated clear glass.
The space trusses were made of upper tensioned flanges made of steel T sections and tubular section compression rods and stiffened by means of diagonal tie bars and a triangular cross girder truss which reduced the number of column supports at the rear of the building.
The roof of the storage area consisted of three zones: the skylight strip, the zone above and the zone below, the three of them overlapping like scales and thus allowing for rain to spill.