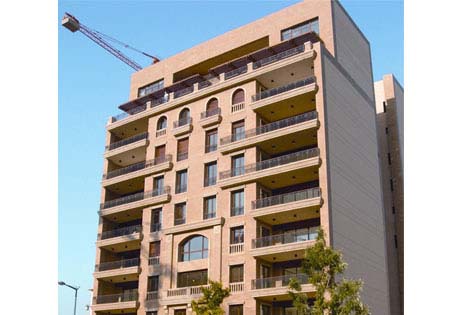 Avenue Plaza Residential Building
The project involved supply and construction of four basements, one ground floor and 10 upper floors, each upper floor consisting of two apartments of about 400 m2 each, with the exception of the tenth floor which represents one apartment.
The ground floor contains a large lobby, three lifts and four retail shops.
The building is made of reinforced concrete raft foundation, reinforced concrete columns and beams and post tensioned concrete slabs. The fourth basement is below water table.
The basements contain two power generators of 300 KVA each, mechanical rooms, storage areas and three parking facilities for each apartment.
The front façade and a part of the rear façade are clad with natural stone; the windows and doors leading to balconies are made of aluminum and fitted with wooden rolling shutters.
The apartment's floors, lobbies and staircases are covered with refined marble.
The overall building dimension is 33 m x 27 m and the overall built up area is 12,400 m2.