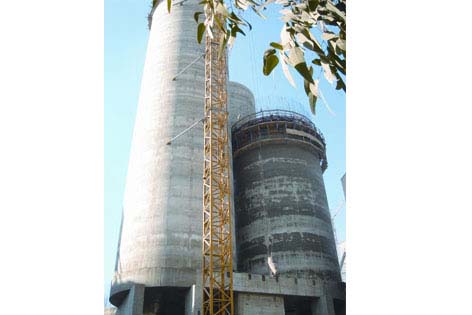 Cimenterie Nationale, Chekka
The project involved a new extension for the modernization of the existing cement plant and covered the supply and construction of the following structures:
• 1 no pre-drying plant building & raw meal grinding plant, 14 m x 24 m, 4 stories, 34.5 m height;
• 3 nos pre-drying plant-filter platform, 8.85 m x 18.60 m, 2 stories, 15.20 m height;
• 3 nos new clinker cooling de-dusting, 32.50 m x 12.50 m, 2 stories, 14.30 m height;
• 4 nos petcock grinding plant foundations of 21.50 m x 14 m;
• 5 nos new coal dust storage, 15 m x 7.40 m, 2 stories, 10.65 m height;
• 4 nos reinforced concrete silos, each of 14 m internal diameter and 59 m height, constructed on 2 m thick reinforced concrete slab supported by walls and columns of 14 m height.
The silos were built in continuous non-stop operations using the slip-form technique.
Although the contractual construction deadline of the buildings was very short, (less than 5 months), and despite the weather constraints (winter), Kettaneh Construction was able to complete the project within the time limit.