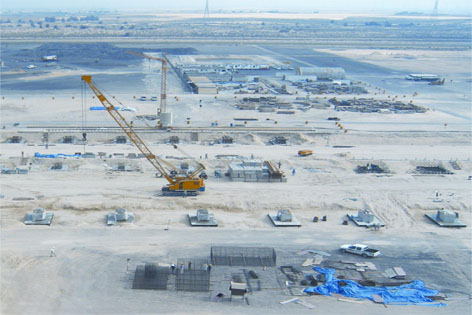 HRM Hadeed Wire & Rebar Mill
Located at Jubail Industrial city, eastern region of Saudi Arabia, the project was executed in joint venture with Dywidag Saudi Arabia.
The purpose was to build concrete foundations and a platform for a wire and rebar mill including water treatment plant, billet bay, storage bay, as well as sub-stations and offices for operations and facilities. The plant is mainly divided in two levels:
• the ground floor where all conduits, cable tray, pumps and machineries are mounted
• a +5.0 m concrete level consisting of a reheating furnace followed by a production line of approximately 400 m length including a cooling bed.
The whole plant (at the exception of sub-stations) is covered with a pre-engineered steel structure including wall and roof cladding with natural and forced ventilation system.
The work executed also included building up a whole access system of asphalt and concrete roads designed for truck traffic, a drainage system, and sign boards connected to existing adjacent roads.