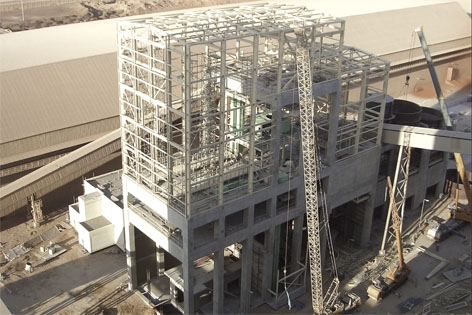 Yanbu Cement Grinding Mill
Yanbu is a major industrial city and port of Saudi Arabia. The cement grinding mill # 3 is located on the Red sea, approximately 350 km north of Jeddah.
The scope of the works was to build the new cement mill building, feed bins stacks, conveyor structures, bridges, air slide support supporting structures, one substation building. The scope included also new roads and connecting to the existing roads. The scope included as well the HVAC and electrical works of the substation building.
The cement mill building was designed and constructed in two major parts: from 0.00 level to +21.70 m in cast in situ and precise concrete elements and from +21.70 m to +47.80 m in steel structure with cladding covering material.
The feed bins were assembled on site and erected on the cast in situ concrete structure. The steel structure was erected upon the completion of the feed bins.
Although the start of the project was delayed due to encountered soil cavities and the fact that the site is approximately 60 km away from Yanbu city which necessitated special measures for the concrete supply throughout the duration of the project, the site managed to hand over the project for mechanical erection on time.
The scope of work related to the steel structure presented a challenge for erection works at high levels such as +62.50 m above the existing silos and the erection of the Mill building and the Feed bins structures.
Concrete: 8,800.00 M3
Reinforcement: 1,425 T
Steel Structure: 1,280 T
Cladding for steel structure: 5,320 M2