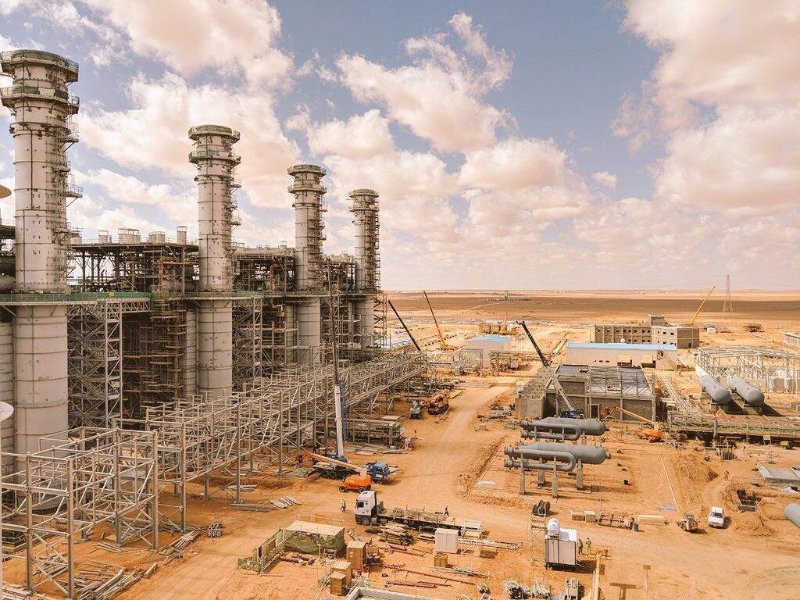 Waad Al Shamal Integrated Solar Combined Cycle (WAS ISCCPP)
Major quantities:
Excavation: 45000 m3
Backfilling: 33,200 m3
Piping for duct banks: 16 000 m
piping for drainages: 12,000 m
Concrete paving: 4000 m2
Car parking: 23,000 m2
Man-holes of different sizes: 800 pcs
Total Concrete: 16,000 m3
Fire fighting trenches: 1000 L.m
Electrical cables: 26,000 L.m.
Lighting fixtures: 1,846 ea
Ducting works: 40 Tons
Value of works: SR.60M
Period: 2017 - 2018Company's role: Sub- Contractor for Underground Works /Building Electrical Works/Mechanical ducting works.
Scope: Execution of the folowing Works forWaad Al Shammal project in Turaif in the Northern Borders of Saudi Arabia.
a) Underground utilities covering: Drainages, Electrical,Instrumentation and Control and Communication For the Power Block and the Solar Field Areas.
b) Execution of electrical installation inside buildings.
c) Execution of Exhaust ducts for 4 Gas Turbines.

Excavation is on normal soil and rock. This is being executed using heavy equipments e.g. rock breakers,
Front End Loaders (Backhoe/Excavator, bobcat, pay loader), dump trucks, water trucks etc. The unsuitable excavated material is disposed at the agreed tipping site outside the construction site /plant boundaries; and usable materials are being screened and mixed to be used for backfilling/filling works. Concrete design mixes used are 35Mpa and 17MPa; while reinforcement bars are uncoated bars as per project specifications.

Electro-mechanical works on concrete buildings executed by other subcontractors are:
a) Supply and Erection of Electrical Installation; and supply only of manpower for termination works under direct supervision by Contractor.
b) Manufacture, Delivery and Installation of Exhaust Ducts for 4 Gas Turbines at GT Buildings.